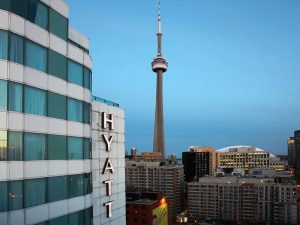 There is just over one month to go until the GNEX-CRTA 2022 Conference, a collaboration between Perspective Group who produce the renowned GNEX Conferences and Canadian Resort and Travel Association (CRTA). The event will be held at the Hyatt Regency Toronto in the heart of Downtown Toronto's Entertainment District, 19-21 September 2022 and delivers an opportunity to network with an international audience of senior-level executives from the vacation industry from Canada, USA, Mexico, Caribbean and beyond.
CRTA is a trade association that focuses on companies that sell to Canadian buyers domestically and particularly internationally, and so the new annual event in partnership with Global Networking Expo, more commonly known as GNEX Conference provides the opportunity to networking with companies from all across the North American region.
GNEX-CRTA 2022 includes fan-favorite sessions that are unique to GNEX Conferences and drive networking and business development opportunities as well as providing key takeaways to help grow your business, such as:
60-Second Pitch
A session where one representative from each company has one minute on the main stage to introduce themselves, their company, products and services which helps all other attendees put faces to names and determine who they especially want to meet during the event.
Speed Networking
One on one meetings with around 30 other attendees in quick 2-minute meetings to discover potential business opportunities, swap business cards and arrange more in-depth meetings for later in the conference.
High-End Social Events
This event will boast an exclusive party atop the famous CN Tower, in one of the highest bars in the world, where attendees can continue to network and build relationships in a relaxed atmosphere and enjoy a premium open bar, light food and DJ. Plus farewell cocktails on the last day of the event at the Hyatt Regency.
THE BOARDROOM
A unique take on an Industry Leader panel that creates a fly-on-the-wall experience for the audience as several senior executives discuss hot topics in an open debate format.
Expo LIVE!
Fast-paced 5-minute presentations from sponsors and exhibitors that offer products and services that can improve business efficiencies, sales and marketing, giving attendees a quick and easy way to learn about several company offerings in under one hour.
General Sessions
Expert speakers share knowledge and opinions on inspiring and innovative topics with panel sessions on "The Art of Sales & Marketing" and "What Drives Loyalty Today?" plus an interactive workshop on "Self Esteem and Leadership".
For golfers, there's also an optional Golf Tournament at the famous Glen Abbey Golf Club as a separate ticketed event.
GNEX Conferences put the acquisition of new business at the top of its priorities. Attendees are rewarded with unique session formats and interactive networking events that are created especially for the GNEX Conference, and unrivaled access to top-level executives that span all areas of the hotel and resort industry including: Resort Developers, Hoteliers, Resort Management Companies, Vacation Clubs, Vacation Rental Companies, Short Term Rental Companies, Travel Clubs, Financiers, Investors, Legal Firms, Technology Providers, Exchange Companies, Rental & Resale Companies, Construction & Renovation Companies, Trade Associations, Online Travel Agencies, Vacation Inventory Platforms, Sales & Marketing Companies, Consultancy Firms and much more.
Sponsors so far include: Canadian Resort & Travel Association (CRTA), Catalyst Marketing Solutions, Light, GuestView Guide, RCI, SPI Software, TruCash Group of Companies, Vacation Innovations, Vacation SafeGuard, CustomerCount, TaraNova Vacation Club, Asociación de Complejos Vacacionales y Turísticos, A.C. (ACOTUR), Asociación Mexicana de Desarrolladores Turísticos (AMDETUR), American Resort Development Association (ARDA), Cooperative Association of Resort Exchangers (C.A.R.E.), GBG & Associates, Send Me On Vacation (SMOV).
For more details and to book tickets to GNEX-CRTA 2022 Conference visit https://gnexcanada.com/register
For more details on Sponsorship Opportunities visit https://gnexcanada.com/sponsorship
About CRTA
CRTA is Canada's only association dedicated to representing the interests of the vacation ownership and resort development industries. Since its founding in 1980 (originally as CRDA), the organization has become Canada's preeminent industry association representing all forms of vacation ownership. CRTA membership is a community of active industry leaders committed to promoting and maintaining a high standard of ethical conduct within the Canadian vacation ownership industry, creating B-2-B and networking opportunities between Members, and educating consumers as to the benefits of vacation ownership. For more information, please visit www.CanadianRTA.org
About GNEX Conference
With a heavy focus on networking, high-quality events, and innovative format, GNEX Conferences, attract senior-level executives from vacation industry companies across the globe. The conferences bring together a unique mix of attendees from traditionally separated segments of the hospitality industry, enabling you to network with companies that specialize in Hotels, Vacation Ownership, Resort Real Estate, Vacation Rentals, OTAs, Travel Agencies & Travel Clubs, plus all the vendors that supply them, including Resort Management, Sales & Marketing, Legal & Financial, Construction & Renovation, Technology, HR & Training and more…
For more details on GNEX-CRTA 2022, 19-21 September in Toronto, Canada visit https://gnexcanada.com
For more details on GNEX-ACOTUR 2022, 15-17 November in Cancun, Mexico visit https://gnexmexico.com.
For more details on our next GNEX Conference, 5-7 March 2023 in San Diego, California visit https://gnexconference.com.